Nikkor AF-S DX 35mm f/1.8 G - Review / Test Report
Lens Reviews -
Nikon / Nikkor (APS-C)
Page 1 of 3
Review by Markus Stamm, published May 2011
Special thanks to Michael Aman and Andreas Stamm for providing review units!
Introduction
When introduced at PMA 2009 the Nikkor AF-S DX 35/1.8 G caused a few raised eyebrows. Many questioned if there was enough demand to justify a dedicated DX normal prime lens. Until then, that market niche had been exclusively owned by a single third party product only (the Sigma EX 30/1.4 HSM) and even today, two years later, there are no other options except the Sigma and the Nikkor.

Nonetheless, the demand for this lens has been quite high, which is likely also due to its rather low price: from the first day the lens was available for below 200,- EUR (in Germany), quite a bit less than what the Sigma costs (which, however, is a bit faster).

In this review we will have a look at how the lens performs on our current DX test camera, the Nikon D7000.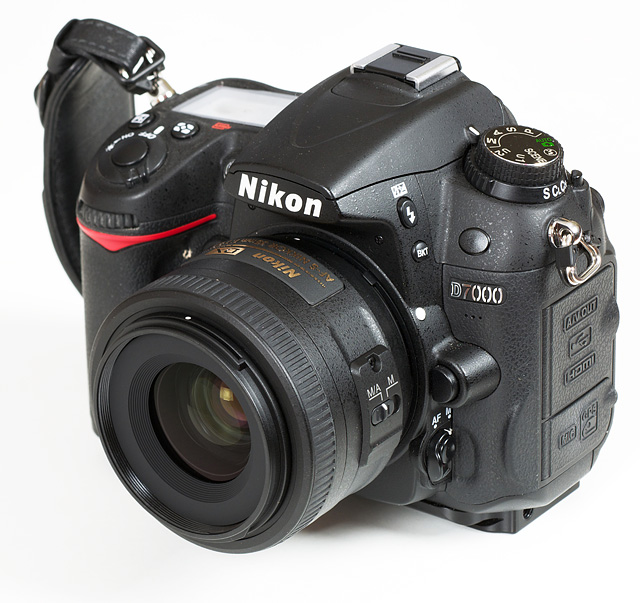 The build quality of the lens is very decent thanks to an outer barrel made out of high quality plastics. The lens looks and feels like a little brother to the Nikkor AF-S 50, except the 35 does not feature a distance scale.
The rubberized focus ring is slightly damped and operates reasonably smooth. However there's a little play when changing the focus direction in manual focus mode. It's minimal, but can be a little disturbing during fine tuning (for example in magnified Live View mode). In this mode, the tested lens also showed a slight shift of the whole image when the focus direction was changed, not by much, though. The effect is invisible in the viewfinder, but easily noticeable in maximum magnification in Live View.
The physical length of the lens remains constant at all focus settings (rear focus group).
The front element does not rotate so using a polarizer remains easily possible. The filter thread has a diameter of 52 mm which is in line with most other short Nikkor primes. A dedicated (but rather short) hood with bayonet mount is part of the package, as well as a pouch to store and protect the lens.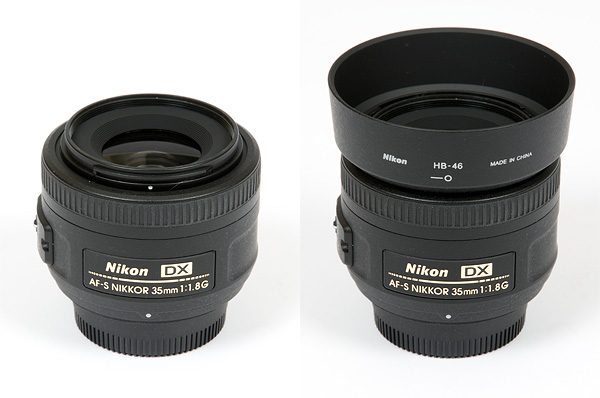 Being an AF-S lens the DX 35 is compatible with all current Nikon DSLRs, including the motor-free entry level cameras. There's manual override at any time and silent operation but the AF speed is not overly fast.
The AF-S DX 35/1.8 is a G-type lens and thus does not offer an aperture ring.
Specifications
Equiv. focal length
52.5 mm (full format equivalent)
Equiv. aperture
f/2.7 (full format equivalent, in terms of depth-of-field)
Optical construction
8 elements in 6 groups (with one aspherical lens)
Number of aperture blades
7 (rounded)
min. focus distance
0.3 m (max. magnification ratio 1:6.1)
Dimensions
70 x 52.5 mm
Weight
200 g
Filter size
52 mm (non-rotating)
Hood
Nikon HB-46, barrel shaped, bayonet mount (supplied)
Other features
Lens provides distance (D) information to the camera, Silent Wave AF motor